Brown outfit variant of the classic with new elements, ponytail


Click to view full list
Plot:


Lara sets out to venture in Peru when she finds that her life is in danger by mysterious men, as the story progresses its that Lara finds how her past is linked to the situation and how she must gather the pieces of the sword before her rivals can; to find the mystery within the links of both situations.
9.5/10

"Great comeback"

by tombraider
cosplay.com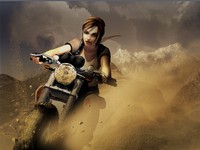 Graphics in this game surpass the TR 7th engine, as it is a newly created engine, featuring more realistic movements from our heroine, facial expressions and amazing details through out mapping



Controls allow Lara to use a grapple to make her way around areas and pull objects, dive to prevent being attacked, and probably the most notable moves of all jump and aim with precision at various enemies in slow motion.

The classic double guns are re introduced as well as new weapons and grenades, however the player can only stock up on what Lara herself can carry, even on the medipacks. The grapple can also be used to drag enemies from a distance to inflict damage upon. Levels introduce Peru, Ghana, England, Japan ,Nepal, and Russia
Outfits are by stage, there's also unlockables to keep the player searching more deeply to obtain them and time trials as a challenge. Game introduces check points and saves within the check point, also multiple spaces. Croft Manor is introduced as the rendered version of Lara's home in the Tomb Raider: Lara Croft movie with unlockables, assault courses and more.
Limited.edition.prints from.TRC.com