Plot:
Lara sets out to look for pieces of the scion when Natla offers her the location
For them, not knowing her true intentions Lara must avoid Natla from using the scions for her own evil against the world.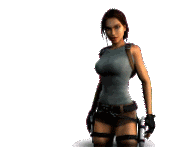 10/10

"Excellent game"
by tombraider
cosplay.com
Graphics: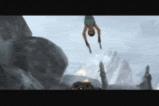 Graphics are worked from the TR 7th engine, implying more textures and features to Lara's movements, interactions and mapping. Thanks to the working technology the developers are able to render the real expectations of the game's original ideas into the remake. Following the storyline of the 1st game, anniversary adds the missing details to the original story, thus completing the perspective.
Controls allow Lara to jump into pillars, do wall runs while using the grapple, drop and grab ledges from higher places, and perform the adrenaline dodge similar to TR legend's move but this one implicates Lara diving and shooting at a precise moment to fend off enemies in a lethal way. Lara can revolver from a fall when a enemy attacks her, and do dives or tumbles to evade.
The classic array of weapons from TR 1st is introduced in the remake as well as a Lara's thoughts diary, to give hints to the player when there's a sticky situation. Levels introduced are Egypt, Greece, Natla's mines, Atlantis and Peru.

Outfits remain the classic remake and the player can obtain unlockables like in TR Legend. Game uses the check point save with multiple spaces

Croft manor is reintroduced however as the 1st game's mixture with the model used in Tomb Raider Legend, which is based in Lara's home in the Tomb Raider: Lara Croft Movie. The manor also plays as a level with unlockables and puzzles
Wallpaper

VEHICLES:
There are no vehicles in TR anniversary

**A Wii version of Anniversary came out featuring even more ways to do the puzzles and change the player's experience to that of a more active one**

Review provided by Carla!